Large glutes are beautiful, sexy and attractive. Many men are attracted for a great pair of large and firm buttocks. It is simply part of man's nature to feel attracted to a round butt, although, of course, ideals and preferences of people may vary. If you are not born with an attractive butt, this isn't a problem. You can do make it grow naturally. Here are a few tips: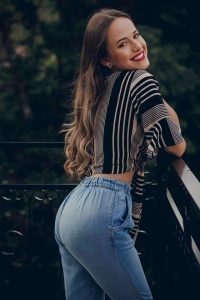 Get moving 
Start exercising your butt. Do some exercise so your butt muscles become stronger, firmer bigger. There are some fun activities you can do that will aid to increase the size of your glutes and improve its shape. Besides all this, they're good for the heart and overall health.
For example, you could start playing tennis or badminton. The different forms of movement in this game (running forward, backward, sideways and jump) is a great workout for the butt. Another good workout for the butt would be jumping rope, a very effective, simple and inexpensive thing.
Other activities that are good for yout buttocks include kickboxing, fencing and certain types of dance. In fact, any sport or activity where you need to bend your knees and jump are ideal to build a good butt.
Certain exercises work your glutes specifically, these include lunges, squats and glute bridges. If you have little time or money, these exercises will be great. They do not require any equipment and can be done from the comfort of your home.
Eat Correctly.
Like exercise, diet is also important if you want to have a bigger butt. A good healthy diet will allow your muscles to recover between training sessions. Now, exercises are not the only thing that will increase your glutes. To achieve those juice glutes you need to add fat. The first tip is to drink a lot of milk, as it gives you the necessary fat for your buttocks.
The second tip is to eat nuts and fatty fish like salmon. They contain fatty acids that are stored in the buttocks making them larger. You can also take fish oil as it has the same effect.
I hope you enjoyed this article on how to make your buttocks bigger, there's so much that can be said about getting a big butt, but the exercises and diet mentioned here will give you good results.