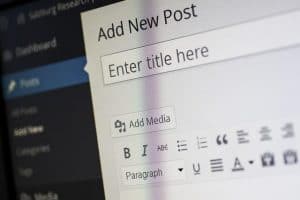 Over 80% of marketers are actively investing in content marketing. Meanwhile, 60% say content marketing generates leads. Another 60% say it builds brand loyalty, while 70% say content helps educate their audiences.
Only 42% of marketers have a documented blog content strategy, though.
Want to boost your content creation strategy this year? Here are a few blogging tips that can help. With these tips, you can start creating content and attracting consumers to your business.
Start blogging with these tips today!
Know Your Audience
First, take the time to research your target audience. Understanding your customers can help you create personalized content. Personalizing your blog posts can help you forge stronger connections with customers.
Determine who your customers are based on demo- and psychographic research. Once you've created buyer personas, gather keyword research. Focus on longtail keywords with a high search volume. 
Brainstorm Topics
Consider your products, services, and business. What topics do you want to cover when creating content? Consider the questions your customers are asking about your business, too.
Try to think of three topics that are relevant to your niche.
Then, select three subtopics under each topic.
For example, a digital marketing agency might cover content creation, social media, and advertising. Under content creation, they can cover search engine optimization, keyword research, and guest blogging.
Organizing your ideas into topics and subtopics can help you generate future blog post ideas. It can also keep your blog organized. Visitors will have an easier time finding the content they're looking for. 
Gather Keyword Research
Once you know which topics you want to cover, start gathering additional keyword research.
Focus on long-tail keywords that include four or more words. These keywords are more precise, which will align with the user's search intent.
For every primary keyword, brainstorm five or six secondary keywords as well. 
Create Content
Once you've gathered your research, you can focus on content creation. Experiment with new forms of content this year, including:
Blog posts/articles

eBooks

Webinars

Polls

Quizzes

Videos

AR/VR
Try creating more interactive content to boost engagement.
Develop a blog content format, too. You can use your format with each blog post to remain organized. 
Track Trends
Once you start using these blogging tips, make sure to keep an eye out for new content creation trends. For example, AR and VR content is becoming more popular. Video content is an effective way to engage consumers online, too.
If you're struggling to create content, consider working with an experienced blog writing agency this year. They can create and optimize your content for SEO. Then, you can start reaching new customers online. 
Write On: Develop Your Blog Content Strategy Today
Developing a blog content strategy doesn't have to feel stressful. Instead, give these simple blogging tips a try. Analyze and adjust the results from your efforts to determine what posts your readers love best, too.
In time, you can boost your SEO rankings to reach new customers online.
Searching for more tips? You came to the right place.
Check out our latest articles for more useful advice.